At first glance, gang-style lathes like this one from Kent USA appear limited in their capabilities. There's some truth to that statement. After all, even the largest of the series—the GSL-42—boasts a maximum bar diameter of 1.6″ and 6″ of Z-axis travel.
How many parts do you know that fall into this size range? If yours is like most shops, the answer is quite a few.
Most shops are also cramped for floor space, which is why a lathe with a footprint smaller than a queen mattress makes good sense. And by equipping the machine with removable top plates, setting up a new job literally takes just a minute or two.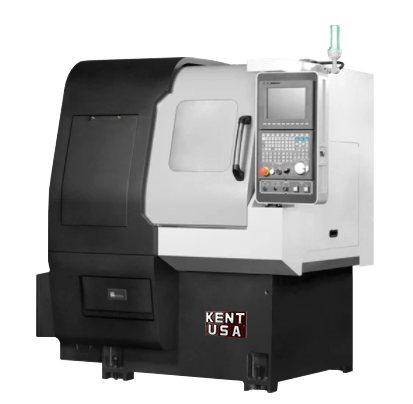 Defining Gang-Style Lathes
But what is a gang-style lathe? Who calls them gangsters, and why are they often more productive than more traditional CNC turning centers? Let's answer the last question first. Because gang-style lathes have no turret, chip-to-chip times are much faster. Indexing is a matter of pulling back in the Z-axis enough to clear the part and then moving the slide in the X-axis to the next tool.
This makes them ideal for smallish, fairly short parts, especially in high-production applications where every second of cycle time counts.
As noted, though, it's simple enough to outfit gang-style lathes with quick-change tooling plates. Doing so makes changeovers fast and easy. Shops can also mount air- or servo-powered auxiliary spindles for drilling and milling features that would normally require a trip to the milling department. The result? Machinists can often complete parts in a single operation.
As to the other questions, people call them "gang-style" because the turning tools are "ganged together" on the cross slide. In Kent USA's case, 6 O.D., 4 I.D., and one driven toolholder come standard. That said, there's nothing stopping you from squeezing as many tools in as the GSL-series' 13″ of travel will accommodate. What better name than gangster?
Going Gangster
As the infomercials say: but wait, there's more. Most gang-style lathes have an inclined bed. This eliminates the inevitable chip pile-up found on older, flat-bed designs. They generally have higher spindle speeds than most turret-style lathes. The GSL-32, for example, offers a 6,000 RPM, 7-horsepower spindle. When used with a 3-jaw chuck, it handles 3.93″ part diameters, and like all of the GSL-series, comes with a C-axis for milling complex part features.
Still think gang-style lathes are limited?