We would like to present our new line of Gang Style CNC Lathes which are designed for high precision and efficiency turning.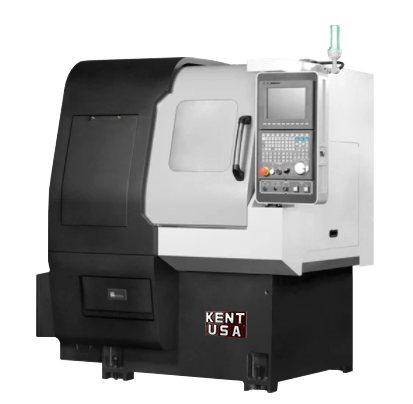 Kent CNC GSL Series CNC Lathes feature a gang-type structure with an inclined bed structure design. These features effectively save tool-changing time. The GSL Series Lathes are equipped with a hydraulic six-station turret and have power-driven tools including edge milling, tapping, drilling, and are also capable of grooving processing. These CNC Lathes have extraordinary precision and help shop productivity.
The Gang Type Tooling System aids with high-speed cutting and holds high accuracy during turning of any part. These CNC Lathes are equipped with linear guides for the X and Y axes to provide stable and accurate cutting. As a standard feature, these machines are equipped with a High Precision C-Axis Indexing function.
Model
GSL-20P
GSL-20
GSL-25
GSL-32
GSL-42
Max. Turning Diameter
.82"
.82"
1.02"
1.3"
1.6"
3-Jaw Max Turning Diameter
–
3.93"
–
Max Turning Length
3.93"
Min. Input Unit
0.000039"
O.D. Tool
.48" or .62"
I.D. Tool
C20 – ER16
Number of Tools
Turning Tools: 6 pcsI.D. Turing Tools: 4 pcs Power Driven Tool: 1 pc Total: 11 pcs
7 – 11 PCS
Max. Spindle Speed
6,000 rpm
4,500 rpm
X-Axis Stroke
13.38"
Z-Axis Stroke
6"
X & Y Axes Rapid Speed
.62"/min
Spindle Motor
3 hp
3 hp
4 hp
6 hp / 7 hp
7 hp / 9 hp
X & Y Axes Motor
1 hp
Hydraulic Motor
–
1 hp
Coolant Pump Motor
1 hp
Coolant Tank Capacity
34 gal
Machine Dimension
81" x 62" x 74"
Machine Weight
3637 lbs
3747 lbs
Power Supply
AC / 3ph / 220v / 10 hp – 13hp
CNC Controller
Syntec / LNC / Mitsubishi
Standard Accessories
Turning Tool Holders × 3
Drill Holder (Single Hole) Ø .78 x 2
Drill Holder (Double Holes) Ø .78 x 1
Stop Bar × 1
Drilling Shaft × 3
Optional Accessories
Spindle Collets (EGURO 1020; FUJI 1125; FUJI1132; INDEX 42#)
Side Power Driven Tool (Servo Motor)
Vertical Power Driven Tool (Servo Motor)
Front Power Driven Tool (Servo Motor)
Auto Bar Feeder Machine
Parts Conveyor
Chip Conveyor With Cart
Oil Mist Collector
Auto Volt. Stabilizer
Auto Volt. Transformer & Stabilizer